Take Another Look
MicroAire's pioneering SmartRelease® endoscopic carpal tunnel release system (ECTR) is the most widely used and continuously improved endoscopic carpal tunnel release treatment system on the market. With 20 years of refinement and thousands of succesful surgeries, maybe it's time you took another look. Clinical studies show that endoscopic surgery results in faster recovery time, less patient pain and quicker return to work.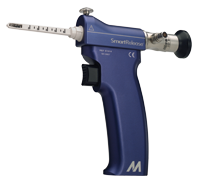 MicroAire's patented single-portal endoscopic carpal tunnel release system uses a small incision at the base of the wrist as the entry point for a disposable blade assembly. Once inside, an endoscope provides a clear view of the underside of the transverse carpal ligament and surrounding anatomy. With the disposable blade assembly accurately positioned beneath the transverse carpal ligament, the retractable blade is elevated by a trigger, and the ligament is incised with a few strokes.
Advantages of the SmartRelease ECTR System
Minimally invasive single-portal technique, quicker return to work, less patient scarring and less pillar
postoperative pain (1,2)
20 years of proven safety and reliability through improved technique and product quality
All-in-one disposable blade cannula assembly
Precision blade actuated via pistol grip hand piece, raises and lowers vertically to cut the transverse
carpal ligament
Complete set of supporting instrumentation
Surgical technique developed and tested by a panel of hand surgeons (1)
ECTR documented in a study involving over 1,000 cases in a 63 multicenter study (3)
Distal to proximal approach, scope visualization – see what you cut before you cut it
REFERENCES:
Trumble, TE et al. Single Portal Endoscopic Carpal Tunnel Release Compared with Open Release.
The Journal of Bone & Joint Surgery, JBJS.org, Vol: 84a, No: 7.
Agee, JM et al. Endoscopic Release of the Carpal Tunnel, A Randomized Prospective Multicenter Study. Journal of Hand Surgery, 1992, 17(6)987-995.
Agee, JM et al. Endoscopic Carpal Tunnel Release A Prospective Study of Complications and Surgical Experience.
Journal of Hand Surgery, 1995, 20A(2)165-171.
To learn more about MicroAire products, send an e-mail to mail@advantechsurgical.com or call 0845 130 5866.